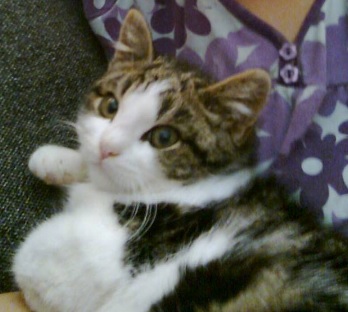 "The person who really want to do something finds a way ; Reviews the other finds a excuse . " Sir John Marks Templeton

Kattbojen is a non-profit organization that helps rescues and relocates cats in need. We hold the Section 16 permit from the County Administrative Board , to operate the business ! We starade up in November 2011.

We are in Östergötland ! 10mil from Jönköping. 7 mil from Linköping. 2mil from both Tranås Ödeshög.

[javascript protected email address]">Contact us by email : [javascript protected email address] , My English is not the best, but I'm responding to emails as best I can! :)

We collect neglected cats from homes , receives cats who for some reason to be killed , but is completely healthy, we receive jogging wild cats! We are , in other words to all the cats of one reason or another is in need! To the extent that we have room , we also take into shifts from individuals !

A cat can become old and during his life time owner may be allergic , tired of the cat, move , separate and no longer able to give the cat a home ... These cats think we should be entitled to a second chance! Healthy , tame , housebroken , wonderful cats in just a few years should not be necessary killed! We try to accommodate them urinating presented for slaughter , subject to availability of course! Many times , you can not keep the cat in the meantime you will find a new home and then killing an option , then the animals homes are full ! We are making a valiant effort to change that ! We support Svekatts "no killing" philosophy, one should not kill a cat who is homeless , everyone is entitled to a second chance!

We are totally dependent on your money to drive our work forward with homeless cats. The collection is made to the bank account and also at the Arken Zoo in Motala and Coop Extra in Mjölby . We have no traditional animal shelters , without using foster homes , where the cats are placed before we can give them a permanent home. We also have an acute ingestion of us where we have the place ...

I am actively working with Kattbojen is Cissi . A girl of 28 years who lives on an old farm , Two mil outside Ödeshög. I live there with my partner and our own animals . Efforts Cat buoy I do completely on my time , in addition to my regular work .

My eyes opened to the needy cats when I took care of a sick old lady's three cats. I learned portion of herd behavior, cat behavior and how individuals cats can be! How customizable some are and how impossible it can be to tame others ...
Donating money:
100,000 feral and stray cats is estimated to be in Sweden! Cat buoy has chosen to help these cats, but in order to do this we need you to donate money! Large and small amounts all are welcome! The money goes directly to the cats, expenditure neutering, vaccination, identification marking, deworming, cat litter, food to the quarantine kittens and cats call home ...

OUR ACCOUNT ON Länsförsäkringars bank

Clearing No.: 9022

Account No: 22456 80

CAT SPONSOR:

As cat sponsor will pay any amount every month to your sponsor cat. You can follow the cat via our blogs or you can choose to get email updates about your cat ... Mail: [javascript protected email address]
Adoptions conditions:

If you choose a cat from Kattbojen we write a contract! Some of the items in it are:

- You agree to take good care of the cat!

- The cat may not be exposed to some sort of experiment or experiments ...

- Kattbojen recommend that you insure your cat, then costs can be high ...

- Castrated cats undertakes new owner to neuter, kittens be neutered before 8 months of age and adult cats within 3 months after purchase date.

- The cat should be kept indoors for 2-3 weeks before returning it, so it feels comfortable and at home in their new home. Un-spayed females can not be placed.

- If you can not keep the cat to Kattbojen announced. The killing of the cat may only be made on the veterinarian's advice. The cat may not give away, sold or killed without Kattbojen contacted.

- You are always welcome to call Kattbojen if you have any questions about the cat ...

- The money paid by cat purchase can not be refunded, they go immediately to other homeless cats.
Click here so you can find cats for sale. Do you find it hard to translate so use Google translation. Click here and copy the text for cats for sale and put in and read ... Any questions just email: kattbojen@gmail.com